My newest favorite cartoon series? The all new Emily Erdbeer or Strawberry Shortcake in English. I would always say "erdbeer" to my Mommy if I want to watch this one. The characters are just so cute and I find Erdbeerland or Berry Bitty City very colorful.
In case you don't know how they are named in German, here they are: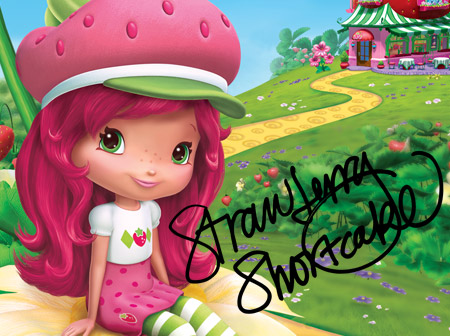 Emily Erdbeer (Strawberry Shortcake)
Orangella Obstblüte (Orange Blossom)
Bonni Blaubeer (Blueberry Muffin)
Himbeertörtchen (Raspberry Torte)
Pfläumeli Creme (Plum Pudding)
Zitronella Baiser (Lemon Meringue)
Aren't they just cute? I just love them and I always look forward to watching the next episode which will be shown on Nick Jr. on July 17th at 7:45AM. I hope Mommy doesn't forget to record it. So I get to watch another new episode.
How about you? Do you like Strawberry Shortcake too? Who is your favorite character?