My little girl has been asking me when are we going to furnish her bedroom. She is now five and a half and will soon start with first grade next year so having a room for a herself is becoming more and more a necessity. If you are planning on decorating a room for your little girl, her are some simple decorating ideas to help you start with.
1. Focal point. Create a focal point in the room. It could be a solid color on one wall or a huge hand-painted piece that your little girl has made. From this focal point, work our the color scheme of the room. Popular color schemes for girls' bedrooms are brown-pink, green-pink, pastel.
2. Stylish shelving. Provide ample space for your girl to showcase her books, artworks and knickknacks by putting up wall shelves. It is also a good way to update her collections and help keep clutter on desks a minimum.
3. Workstation / Craft Area. Allow your little girl's creativity to develop and provide a workspace for her. As much as possible, put it near the window so she has ample natural light and she can look outside for inspiration. Her desk will also be a place for her to make her homework when she goes to school so a grown-up desk will do the trick. This allows the room to grow up with her.
4.
Plenty of open floor space
. This is important especially if the room is meant for growing up kids as it provides them plenty of room to play, giving them enough space to develop their motoric skills. Make it more appealing by putting a
kids rug
on the floor. If you are looking for good rugs for your little girl's room, there's a good selection of kids rugs over at
InHouse Rugs
.
5. Reading nook. My little girl loves to be read before bedtime and I know that she will enjoy reading all by herself when she is old enough to read alone. A reading nook composed of a comfortable settee or a funky, hanging bubble chair will just be the perfect reading spot. Just be sure that it reflects her personality.
6. Pretty jars or canisters. I mentioned a workstation for your child to work on and a grown-up desk. You can add pretty jars and canisters to hold her pens, pencils and brushes and other small crims crams. This will help keep clutter to the minimum. Be sure that she always has an empty desk so it will be more inviting to work or to study.
7. Design choice. Give your child options on the design and allow her to choose. This way, she will have a part in decorating her room and will be able to claim it as her own.
8. Artworks. If your child loves to draw and do crafts, you could use these as decor pieces. You could always update the artworks by replacing the old ones with her new works.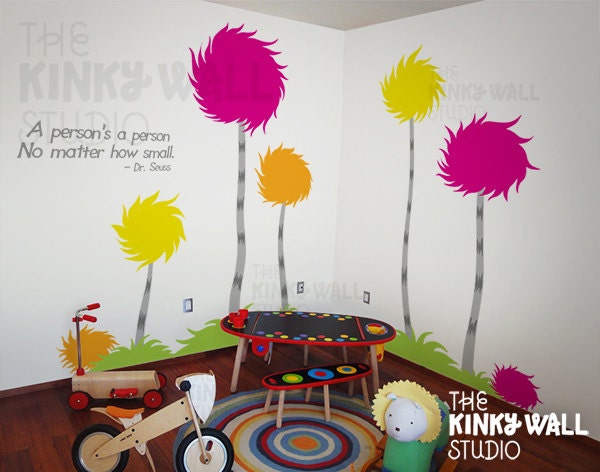 9.
Wall Decals/Tattoos
. Don't want the traditional wallpaper or the plain paint on the wall? Add a whimsical flair to the room by adding wall tattoos or decals. There's lots of wonderful designs available on the Internet today especially on
Etsy.com
. And what's more, it doesn't damage the paint and you can always replace it to suit your child's personality and interests.
10. Letter Frames. The classic letter frames that spell out her name will make any child's room more personalized. You can of course choose on the colors, the lettering, or it could also be a thing that interests your child and at the same time starts with the initials of her name.
So there, hope you are able to get some wonderful ideas. Happy decorating!